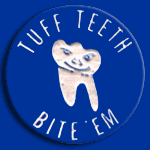 Copyright © 2001 Patrick A. Fleege, D.D.S, INC,PS

Office Hours:
M - Th: 8am - 5pm
Fridays: by appointment only
(206) 622-6696
Fax: (206) 292-8090
Patrick A. Fleege, D.D.S, INC, PS
Dentistry for Children and Teens
509 Olive Way, Suite 1024
Medical Dental Building
Seattle, Washington 98101
EAT MORE ROUGHAGE!
Remember: An adult's eventual goal is about 30 grams of fiber per day. But, give yourself 6 months to reach that level.

EXCELLENT SOURCES
(7 OR MORE GRAMS)

Raspberries 1 cup
All Bran Cereal 1/3 cup
Fiber One Cereal cup
Oat Flakes Cereal 2 oz.
Butter Beans cup
Great Northern Beans cup
Kidney Beans cup
Navy Beans cup
Broccoli, cooked 1 stalk
Healthy Valley
Vegetable Chili with Beans 4 oz.
Prunes 1 cup
Split Peas cup
Health Valley
Almond & Date Oat Bran muffin 1 muffin
Post Raisin Bran 1 cup
Health Valley
Real Italian Minestrone Soup 1 cup

VERY GOOD SOURCES
(5 - 6 GRAMS)

Blackberries cup
Brussels sprouts 1 cup
Turnips cup
Black beans cup
Black-eyed peas cup
Pinto beans cup
Spinach, cooked cup
Lentils cup
Progresso
Healthy Classics Lentil Soup 1 cup
Nabisco
Spoon-Size Shredded Wheat 1 cup
Ralston
100% Whole Grain Wheat Chex cup
Pita, whole wheat 1 pita
Almonds cup
Quaker Plus Fiber Hot Cereal 1 pkg.
Raisins, seedless 1 cup
Red Beans cup
GOOD SOURCES
(2 - 4 GRAMS)

Oatmeal 1/3 cup
Popcorn 3 cups
Pumpernickel bread 1 slice
Rye Bread 1 slice
Sweet Potato 1/3 cup
Apples 1
Nectarines 1 medium
Apricots 4
Figs, dried 2
Grits 1 cup
Oranges 1
Pears 1
Plums 2
Corn, cooked cup
Prunes, dried 4 medium
Strawberries 1 cup
Beets cup
Lima Beans cup
Banana 1 medium
Brown Rice 2/3 cup
Peanut Butter 2 Tbsp.
Peaches 1 medium
String Beans cup
Peas 1 cup
Wild Rice 1 cup
Winter Squash cup
Quaker Quick Oats 1 cup
Aunt Jemima
Buckwheat Pancake Mix 4 pancakes
Baked Potato with skin 1
Tortilla, whole wheat 1
Nabisco
Wheat 'N' Bran Triscuits 7
Wonder
100% Whole Wheat Bread 1 slice
Helpful Hints for Adding More Fiber


Remember-you only get fiber from plant foods. There is no fiber in animal products.
Add fiber gradually, not all at once.
Drink PLENTY of fluids to keep your digestive running smoothly.
Choose whole-grain bread, crackers, pasta, and flour.
Add beans, peas, and lentils to soups, stews, and salads.
Eat fresh fruit in place of fruit juice.