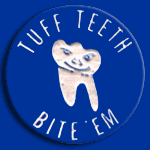 Copyright © 2001 Patrick A. Fleege, D.D.S, INC,PS

Office Hours:
M - Th: 8am - 5pm
Fridays: by appointment only
(206) 622-6696
Fax: (206) 292-8090
Patrick A. Fleege, D.D.S, INC, PS
Dentistry for Children and Teens
509 Olive Way, Suite 1024
Medical Dental Building
Seattle, Washington 98101
Make a day of coming downtown!!

After your dental appointment, make plans to take advantage of all the wonderful family activities available near our building. Walk across the street and take the Monorail to Seattle Center and visit the Children's Museum or the Space Needle.

For more fun than you've ever had indoors, another place to go is Gameworks. And if you want to shop, Nike Town, Macy's, Nordstroms, and the Old Navy store are each only 1 1/2 blocks away from the Medical Dental Building.

If you want to see an authentic Seattle landmark, Pike Place Market is also an exciting place to be and is only a short jaunt from our place. Just down the hill from Pike Place Market is the Seattle Aquarium. Our building is located between Westlake Center and the Pacific Place Mall, which are two great places to shop in downtown Seattle. If you haven't been to downtown Seattle lately, you owe it to yourself!